Have you ever forgotten what you used to look like before you had kids? I know I did!
I seem to think I have always looked like this but not true!
We were once young children and teenagers before we became the hot mommies that we are now.
So as I was thinking about how to participate in
this week's
SN Ryan Gosling series over at
Adventures in Extreme Parenthood
I decided to clean and rearrange my house.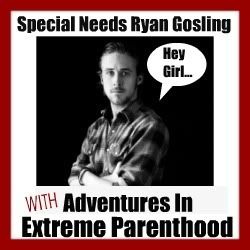 I get my best ideas when I'm cleaning. Also, I needed to because if you remember last week, Mr. Big and I were having a discussion about when his sister arrives which is now THIS Saturday so I have to make the house look presentable.
As I was cleaning, I came across this picture....
My Sister, My Brother, and ME!!
Wow!! That 14 years ago exactly yesterday at my brother's first wedding. I can't believe I was ever that young or looked like that! I still remember when I bought that dress.
I was in a small mall in
Buckinghamshire England
looking for something to wear to Her Majesty's Theater to go watch Phantom of the Opera for the first time. I studied at a boarding school,
Wycombe Abbey
, in Buckinghamshire for about a month during the summer when I was 16 in a course offering on Sir Thomas Moore by the
University of Dallas
(they don't offer this anymore). I was the only student from Florida! Wow - definitely takes me back!! (There were guys there - the school was closed for the summer but we were used it as our dorm - the boys got the 3rd floor and the girls got the 2nd floor). I have to say that was one of the best trips in my life!! Too bad my photo album got damaged when I had a water leak in my old apartment. It was ruined!! :-(
After I posted that picture on FB my cousin then posted this one of me as a toddler...
Here, have a ball. It says "2"
Wasn't I just the cutest? I can't believe I was ever that little!! And those rolls on my arms and legs!! And the dress!! Holy crap!!
Time flies by doesn't it?
Now I am looking over required reading lists for Princess because she still has one more book to read and school starts like SOON and she doesn't know which one to read.
I remember when I was the one reviewing the lists for myself and doing book reports at the last minute because I wanted to get every ounce of summer in that I possibly could.
Now, its my children doing the same thing....
Wow...
So, I gotta get back to it and since I promised you a hottie (no, not my brother - that's just gross people!) here you go....